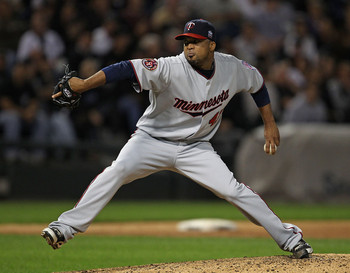 The Pirates have agreed to a two-year deal with free agent left-handed starting pitcher
Francisco Liriano
, which will guarantee him $12.75M
according to Jon Heyman
, plus some incentives. The move is subject to a physical, so the deal will not be completed until after Christmas.
The Pirates have picked up a hard throwing lefty for a decent price when the current market is considered (such as the two year, $10M contract that
Kevin Correia
received from the Twins). Liriano mixes a four seam and sinking fastball, averaging at around 93 mph (although he can reach back and hit 96 mph on the gun), with a slider and changeup, the latter two are his swing and miss pitches. Hitters whiffed on 24.11% of sliders and 18.64% of changeups thrown by Liriano. His 13.2 swinging strike percentage was the highest among pitchers that completed at least 150 innings last season.
I'll get the negative out of the way first; his earned run averages and walks (although health could also be a concern). He's had an ERA above 5 and walked more than 10% of batters faced for three of the last four years. He's not really been the same pitcher since he underwent Tommy John surgery in November 2006 after exploding onto the scene with the Twins, with his 6.0 fWAR 2010 season looking like an outlier at this point. That year was the only season where he had surpassed two wins above replacement since missing the 2007 season; with fWARs of 1.5 in 2008, 1.1 in 2009, 1.1 in 2011 and 1.8 in 2012 – totalling less wins above replacement than he managed in 2010 alone.
All that said, I think this is a very solid move with the potential. Liriano was one of the pitchers that
I had in mind
when I stated that the Pirates would be better off picking up a major league free agent starting pitcher and then trade
Joel Hanrahan
for a prospect. He has just turned 29-years-old and offers more upside that the typical, older free agent and the switch to the NL as well as PNC Park should benefit Liriano.
Liriano does have a 3.31 ERA in 19 inter-league games (18 starts) over the course of his career and it's generally thought that the move from the AL to the NL is favourable for pitchers. The
below table
, created by Baseball Prospectus' Derek Carty for fanduel.com, confirms this theory:
Liriano already has a strong strikeout rate with opposing hitters striking out 24.1% of trips to the plate, which totalled more than a hitter per inning (9.59 K/9) so a higher strikeout rate would just be a bonus. The immediate effect is what the move could do to his ERA, which could drop by up to half a run due to the league change.
A.J. Burnett
made the switch prior to last season and his ERA dropped from 5.15 with the Yankees in 2011 to 3.51 with the Pirates. Such a drop would be an unrealistic expectation with any pitcher, especially someone like Liriano that gives up a lot of walks; however, much like Burnett's 3.86 xFIP in 2011 with the Yankees suggested an ERA regression, Liriano's xFIP was 4.14 in 2012 so regression can be expected if he can find a way to limit the long ball.
When Liriano has been at his best, he's generated a ton of ground balls, with percentages above 50% in 2006 (55.4%) and 2010 (53.6%). If he is unable to keep the ball on the ground, then the move to PNC Park should help Liriano, as the stadium favors left handed pitchers as it reduces the number of homers hit by right handed hitters (as
Clint Barmes
can attest). Furthermore, while Liriano gave up 19 home runs last season, that number would have dropped by almost a third if he had been pitching in Pittsburgh, as can be seen in the below "True" home run landing spots: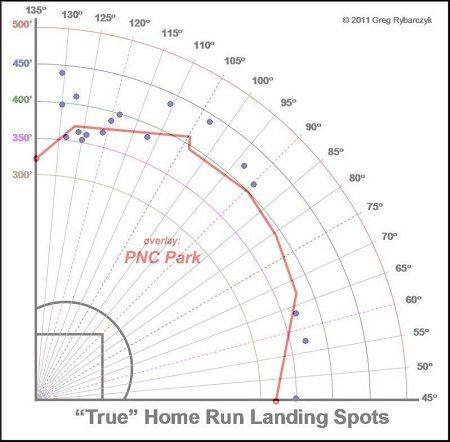 xFIP is designed with home runs calculated at a rate of 10.5% of fly balls induced and last year Liriano's HR/FB ratio was above this number at 12.9% (hence why his FIP of 4.34 was above his 4.14 xFIP). If the six home runs that would have stayed within the walls of PNC Park are deducted from Liriano's total, his HR/FB ratio would drop to 8.8%, exemplifying how pitching at home could really help the lefy. If Liriano is unable to increase his groundball rate, he'll also benefit from the defensive upgrade that
Starling Marte
represents in left field over
Dayan Viciedo
and
Josh Willingham
, who played behind Liriano in left with the White Sox and Twins respectively (although both clubs did have stronger options in center and right field).
The full terms of the deal are unknown but the average guaranteed value will be less than $6.5M per season. If Liriano cannot limit the number of bases on balls, the move to the NL and to PNC Park should see him as a solid middle of the rotation option, likely worth in the region of 2 fWAR and providing $10M-$12M worth of value (depending on how much one win is worth on the open market). However, nearly all the ingredients are in place for Liriano to surpass that level; the key will be harnessing his control to reduce his walk rate.