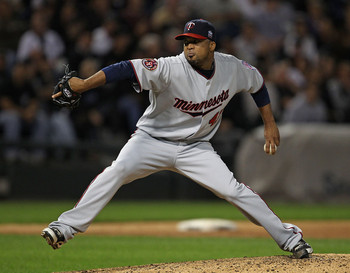 Francisco Liriano's dea
l with the Pirates appears to be in jeopardy. The left-handed starting pitcher suffered an injury to his right arm shortly after agreeing to a two-year, $12.75M contract with the Pirates at the end of December, causing the physical to be delayed.
I liked the idea of Liriano joining the club;
a closer look at his performance
certainly offered hope. At the very least he's a 2 win pitcher, but then he does have the upside for more than that.
GM Neal Huntington told reporters "We continue to have dialogue with Francisco's (agent), but there is nothing to announce at this time". Whether this is to restructure the terms of the contract (a one year deal, making the second year an option, a lower base salary plus incentives) remaining to be seen, although all will depend on the nature of the injury.
Assessing the impact of the injury is very difficult right now, although the positive is that it's to his non-throwing arm. The nature hasn't been revealed at this point, however it has stopped the pitcher from arriving in Pittsburgh for a physical. Huntington
has stated
that the club would be searching for a replacement, however failing to do so would almost ensure that both
Jeff Locke
and
Kyle McPherson
will begin the year in the rotation.
Replacing Liriano could mean the return of
Jeff Karstens
, who
I believed should have been kept
in any case, or maybe someone like
Roy Oswalt
or
Shaun Marcum
become candidates for the Pirates rotation.
Kyle Lohse
is still available and garnering very little interest; however he would come at the cost of the 14th overall pick in the draft (as well as the money in the draft budget associated with that pick). He would probably have been a more likely target if the club hadn't traded their competitive balance lottery draft pick in the
Gaby Sanchez
deal.
Given the few remaining options on the free agent market, the club will have to act quickly, which will in turn display the seriousness of the injury. If a replacement is sought then it would confirm that the pitcher has not suffered a minor injury; however this is likely indicated by Huntington's comments regarding a replacement and Liriano's inability to travel.