Jeff Karstens
has developed into a dependable middle of the rotation pitcher whenever he's been healthy and should provide a lot of value on a $2.5M contract. While that durability issue that led to him being non-tendered could well be a problem this year and he's seen as more of a back end of the rotation option, I believe that Karstens now becomes a solid number three behind
A.J. Burnett
and
Wandy Rodriguez
in the Pirates rotation.
Karstens' upside when he was with the Yankees was a back end of the rotation pitcher, so was most likely to be used in relief if he remained with that organization. Nonetheless, I would now consider Karstens as a strong option for the middle of the rotation, probably developing further than the Pirates front office projected when they acquired him as part of the
Xavier Nady
deal.
Looking back at older versions of Baseball America's prospect handbooks, Karstens was praised for his ability to throw all of his pitches for strikes, with his changeup being the pitch that was heralded as above average. Karstens had some initial success with the club after the trade but was inconsistent before struggling during 2009, leading to him designated for assignment after the season. He began 2010 in the minors but when opportunity presented itself in Pittsburgh, Karstens became a dependable option for innings and has stuck with the team ever since. While the results in 2010 were largely forgettable, there were signs of development. Despite an ERA close to 5, advanced pitching statistics pointed to better results, as xFIP (4.28) and SIERA (4.36) both indicated improvement.
Former pitching coach Joe Kerrigan began the alteration to his delivery
during Spring Training in 2009
and this has lowered since. The arm slot change is something that has developed to the point it is now, rather than one big change like with
Charlie Morton
, however the mechanical alteration has helped his results on the field. The difference can really be seen in a comparison between his 2008 and 2012 release points:
2008 above and 2012 below
It is very important to note that the above is not gathered at the actual release point; it is gathered 50 feet from home plate. However, the above highlights what can be seen in video: the higher arm slot from his
near no-hitter
against the Diamondbacks in 2008 and the lowered slot facing the Brewers
last August
.
The product of Karstens' development has really been seen in his results over the last two seasons, especially in both his strikeout and walk rates. His strikeout-to-walk ratio has improved dramatically since his recall to Pittsburgh, reaching 4.40 K/BB last season over 90 ⅔ innings, increasing from 1.16 K/BB in 2009 to 2.67 in 2010 and 2.91 in 2011. Karstens has managed to improve his K/BB ratio by both reducing walks and increasing strikeouts and both trends continued over the 2012 season: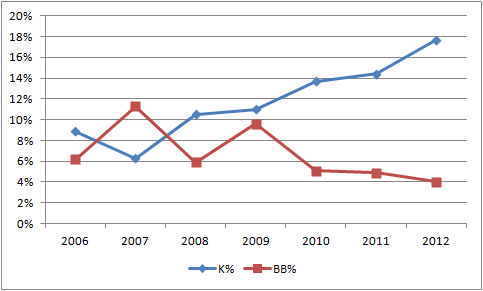 Due to these improving trends, similar results can be found when looking at Karstens' FIP. 2012 was the first year that saw his FIP drop below 4 (3.32), although this was over a smaller sample size. The question is whether Karstens' 2012 performance is sustainable or whether a decline can be expected this year. Karstens has never had an overpowering fastball, so he relies on movement, control and variation, with the latter being a reason why Karstens was able to increase his strikeout totals this season. While his changeup was his lone plus offering as a prospect, Karstens' curveball has developed to become a big weapon, with his slider not far behind.
Due to the improvement with his breaking balls, the usage of pitches changed a bit for Karstens in 2012, although this could probably be attributed to the addition of
Rod Barajas
. This is a significant change for Karstens as he essentially substituted the sinker, his worst swing-and-miss pitch, with his curve, his best swing-and-miss pitch:
Karstens had a career high 10.4 SwStr%, a mark just outside the top 20 in the majors among the 157 pitchers who had pitched in 90 or more innings in 2012, up more than 25% from his former career high 7.7 SwStr% - which was set the season prior. Hitters whiffed on 19.1% of the 257 curveballs thrown, missing on 36.3% swung at. His slider also surpassed the 30% swing-and-miss rate, picking up whiffs on 16.5% of 176 deliveries. Furthermore, his fourseam fastball has also seen a swing-and-miss increase, above the 20% mark for the first time in his career:
The curve became Karstens' go-to off-speed pitch with a two strike or when ahead in the count. The big increase was against right handed hitters, effectively replacing the slider in these situations – his usage with the curve was at 19% and 20% respectively in 2011 while in 2012 he used the curve 33% of the time when ahead and 31% of occasions with a two-strike count.
Looking at his splits over
the course of his career
, Karstens has a .311 wOBA-against and 4.15 FIP when facing right-handers, increasing to a .358 wOBA-against and 5.04 FIP against left-handed hitters. 2012 was
very different
. Whereas his FIP split of 3.58 and 3.11 against left and right handed batters respectively were below his career number, right handed hitting opponents (.294 wOBA-against) actually performed better than their left handed counterparts (.286 wOBA-against). This was mainly due to luck, with a 36 point BABIP differential (.303 BABIP versus RHH and .267 BABIP versus LHH), while other statistics remained similar between hitters from both sides of the plate - with the expected favoritism towards the traditional platoon splits.
While it has to be acknowledged that some part of Jeff Karstens' 2012, which produced a career high 1.7 fWAR, can be attributed to his shorter season and he did have an element of luck (with a below average HR/FB ratio of 7.8% and a low BABIP when facing left-handed hitters for example); there are aspects of his performance that indicate that he should be able to sustain his success. In 90.2 innings last season, Karstens had a 3.92 ERA and while his FIP was more than half a run lower at 3.32; his xFIP (3.84) and SIERA (3.89) were closer to his earned run average. He has developed as a pitcher as he's got older. While he's always had good command, Karstens is now combining that with potential swing-and-miss offerings and using these to his advantage to generate strikeouts. If he can remain healthy, Karstens will have a lot of value in the rotation on a $2.5M deal. Nonetheless, even with a trip to the disabled list, Karstens should provide an upgrade whenever he is available start for the Pirates.
Stats and graphs from FanGraphs, Baseball Reference, Brooks Baseball and Texas Leaguers;
A lot of the above comes from a piece that I wrote about Karstens
in October
, although I have made some additions.