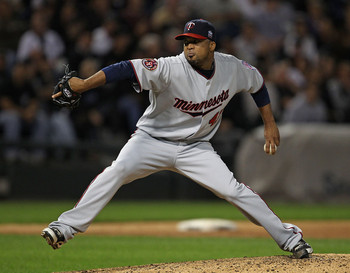 With
Francisco Liriano
's now looking in doubt, the Pirates may look externally for a replacement if the deal cannot be restructured. The Bucs do have a lot of options internally; however Neal Huntington
has stated
that he could make a move if an upgrade can be found.
While the free agent market has naturally weakened over the winter, there are still some interesting names available, headed by
Kyle Lohse
– one of the top free agent starting pitchers entering the offseason. While pitchers like
Tim Stauffer
or
Carl Pavano
could interest the club on minor league deals, the following are options that would have to be guaranteed a spot in the rotation to sign with the club.
Kyle Lohse
Despite being one of the top free agent starting pitchers on the market, Lohse is still available and garnering very little interest; although this is not a huge surprise given that he has Scott Boras. He's primarily a sinker-slider-changeup pitcher who is coming off a 3.6 fWAR year, following up a very solid 2011 (3.39 ERA, 3.67 FIP) with a 2.86 ERA (3.51 FIP) over 211 innings. There are causes for concern, however, as xFIP indicates that his ERA should be closer to 4 (4.04 xFIP in 2011, 3.96 last season).
Aside from the potential contract demands, Lohse would come at the cost of the 14th overall pick in this year's draft. While that is the Pirates' second pick in the first round losing a pick now also comes with the loss of the money in the draft budget associated with that pick, making the loss more costly. That said, I do think that Lohse would probably have been a more likely target if the club hadn't traded their competitive balance lottery draft pick in the
Gaby Sanchez
deal.
Karstens is the well known option for the club. He had developed to become one of the more dependable members of the rotation when health, however it's the durability concerns that led to the Pirates non-tendering the pitcher. Nonetheless, Karstens
struck out more and walked fewer
hitters than he has before in 2012, continuing a trend that began after the club designated him for assignment in 2009. He also had a career high 10.4 SwStr% last season, a mark just outside the top 20 in the majors among the 157 pitchers who had pitched in 90 or more innings in 2012, partly thanks to an increased usage of his curveball. The Rockies have had an interest in the righty, however that really has been the extent of rumors since his non-tender.
Oswalt elected to sit out the first half of the 2012 season rather than sign with the Bucs this time last year and he ended up having a tough time in Texas. He was sent to the bullpen after six starts and picked up just three more thereafter, struggling to a 5.80 ERA over 59 innings. Advanced statistics suggested better. His ERA was bloated due to a high home run rate, giving up 11 homers, as well as a .378 BABIP and 67.0 LOB%. Despite the number of home runs surrendered, Oswalt had a FIP of 4.23 – a full run-and-a-half lower than his ERA – thanks to his highest strikeout percentage (22.4%) since 2001 and a career low walk percentage (4.2%, matching his BB% from 2001 and 2006). This is partly due to the shorter outings in relief; however Oswalt still has an 18.1 K% and 4.6 BB% as a starter.
Earlier this winter
there were reports that Oswalt was unsure as to whether he would pitch this year, however if he was to play then a move back to the National League may appeal to Oswalt, especially into a more pitcher friendly environment than in Texas.
If the Bucs didn't want Karstens back due to durability concerns then the same issues would rule out Marcum; however when healthy, Marcum would be a solid option for the Pirates. The righty has the same repertoire as Karstens, although his changeup is his main swing-and-miss pitch while Karstens has a little more heat in fastball. Marcum has a career 3.76 ERA and 4.25 FIP, however both numbers are inflated from earlier in his career. He's not had an ERA above his career average since 2007 and FIP above 4.25 since 2008, although the pitcher did sit out all of 2009 through injury. Aside from injury issues, Marcum is also more of a flyball pitcher, which may be a problem for the right-hander in PNC Park.
Marcum has already undergone Tommy John surgery earlier in his career, so hitting the disabled list for an extended period last season due to an elbow injury is probably the main reason why he's still a free agent. The Mets, Padres, Indians, Cubs and Twins have all been rumored as having an interest in the 31 year old righty, however a one-year deal would be his best option to rebuild his value – but his value relies on him remaining healthy all season.
Whereas Liriano, Oswalt and Marcum all offer top half of the rotation upside, Saunders will max out as a 2 to 2.5 WAR starter who will provide the clubs with a number of innings from the back end of the rotation. He would be a solid-yet-unspectacular addition for the club with his value resting on his ability to remain healthy. While Saunders isn't exactly overpowering and doesn't generate many whiffs (6.7 career SwStr%), he also doesn't walk many hitters. He's received interest from the Orioles, Mariners, Padres and Mets this winter, as well as
receiving an offer from the Twins
. John Perrotto has also reported that the Pirates are
kicking tires with left-hander
. The club are likely interested as he would offer the dependability that cannot be counted on from
James McDonald
,
Jeff Locke
and
Kyle McPherson
at this point.
Saunders is really the best innings eater available to the Pirates, but then he could also lose his spot in the rotation at some point during the season due to there being better options available internally – much like
Kevin Correia
did last year. That would not be a huge problem; if anything, it would be the best case scenario if the club did acquire Saunders as the club could always look to move the lefty at the deadline.
Given McDonald's second half and Locke and McPherson's lack of major league experience, the front office elected to strengthen the rotation in December by signing Liriano. The injury is to his non-throwing arm so there should not be any long term issues with his pitching, however the likelihood of the deal falling through depends on the extent of the so far undisclosed injury. If they do decide to move on from the lefty then I would expect them to look for a replacement - as I'd doubt that much has changed over the course of a few weeks that would mean that an addition is not required.
While I would personally prefer to see the Pirates elect for the riskier option as it would provide the club with more upside, acquiring dependability would be understandable given the current state of the rotation. Nonetheless, if the Bucs take a gamble on someone like Oswalt or sign an injury risk option like Karstens or Marcum, then Locke or McPherson would be available as depth when a replacement is required rather than beginning the year as part of the rotation.