In the aftermath of the three team trade between the A's, the Mariners and the Nationals that saw
John Jaso
,
Mike Morse
and a couple of prospects swap clubs,
Oakland designated
catcher
George Kottaras
for assignment. Kottaras is a player that I would hope that the Pirates would have some interest in acquiring, given that he is a left-handed hitter who would provide the club with a platoon option behind the plate and pinch-hitting flexibility off the bench.
The Pirates currently have three right-handed hitting catchers on the 40-man roster.
Russell Martin
was signed to be the club's primary option with
Michael McKenry
backing him up, while
Tony Sanchez
needs more time in the minor leagues – to the point that he couldn't be counted on as depth right now. While McKenry doesn't really deserve the demotion, the left-handed Kottaras would be a more natural partner for Martin on the 25-man roster. McKenry also has an option remaining and would provide the club with solid minor league depth in the event of any injuries.
Last season Kottaras outperformed both Martin (.287 wOBA) and McKenry (.325 wOBA) against right-handed pitching, showing both better power and patience. He had a .337 wOBA in 173 plate appearances with an ISO of .228 and walking on 16.2% of trips to the plate – combining the power and walks with a 24.3 K%. His performance was mainly weighed down by a .223 batting average on balls in play, so some progression can be expected in this area. In comparison, McKenry's performance was boosted by a more than 50 point balls in play advantage over the pair, although his .281 BABIP was also slightly on the unlucky side (though well above Martin's .227 BABIP).
Martin had 336 plate appearances when facing right-handers last season, despite his struggles. He's only been above average once over
the past four seasons
against righties, with his 2011 wOBA of .332 being the lone exception. While his contract will ensure that Martin will see the majority of plate appearances among Pirates catchers and effectively rules out a full time platoon, adding Kottaras would allow the club to limit Martin's exposure against righties.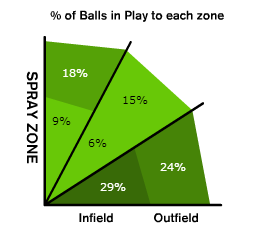 Kottaras is also a pull hitter, as can be seen on the chart to the right
from ESPN
, so PNC Park could naturally become a good home to the Canadian. Out of his 24 career home runs, 18 have headed over the right field wall and six went to center field (21 of them off of right-handed pitchers). Furthermore McKenry's .208 ISO in 2012 was his highest mark above high-A ball, with much of his damage coming on the road (.292 wOBA at home, .359 wOBA away), so power regression should really be expected – especially with Martin taking away plate appearances against left-handed pitching.
While the club's backup catcher is not an essential area of improvement, Kottaras is a option for the Pirates that comes at a reasonable cost. The A's avoided arbitration with Kottaras earlier this month with both sides agreeing to a $1M contract for 2013, which would easily fit into the club's payroll at this point. He also has three years worth of team control left prior to hitting free agency, with the lack of options being the only negative.
I do believe
that the club should be taking the platoon advantage in an attempt to improve the line-up on a daily basis and Kottaras would provide the club with that platoon option behind the plate, as well as pinch hitting flexibility off the bench. Given McKenry's option, adding Kottaras would be a low-risk move that could very easily improve the catching tandem – at the very least offensively.